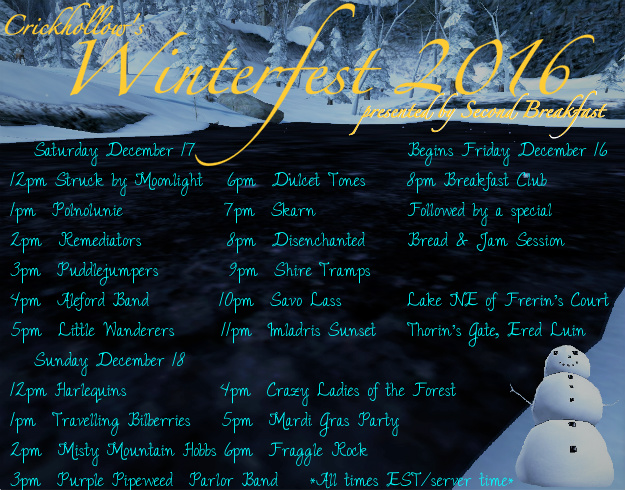 This summer's Shirefest is but a memory, but we'll keep you warm with music from 20 great bands at this year's Winterfest. The festival will once again be held at the frozen lake northeast of Frerin's Court at Thorin's Gate.  Captains will be on hand for summons if necessary.
Second Breakfast's house band, Breakfast Club, will kick off this year's festivities with a concert at 8pm EST/server time on Friday, December 16th.  
This will be followed by a round robin jam session from 9pm until the musicians get tired (which will certainly be after midnight).  Individual bands and bards are welcome to share a song of their own.
The festival continues on December 17th with 12 bands from noon until midnight.  7 more bands will join us on December 18th from noon until 7pm.   Expect lots of Yuletide music, but also plenty of surprises!
Schedule:
FRIDAY 16 December
8pm – 9pm – Breakfast Club
9pm – 12am – Bread & Jam

SATURDAY 17 December
Noon – 1pm – Struck by Moonlight
1pm – 2pm – Polnolunie
2pm – 3pm – Remediators
3pm – 4pm – Puddlejumpers
4pm – 5pm – Aleford Band
5pm – 6pm – Little Wanderers
6pm – 7pm – Dulcet Tones
7pm – 8pm – Skarn
8pm – 9pm – DisEnchanted
9pm – 10pm – Shire Tramps
10pm – 11pm – Savo Lass
11pm – Midnight – Imladris Sunset
SUNDAY 18 December
Noon – 1pm – Harlequins
1pm – 2pm – Traveling Bilberries
2pm – 3pm – Misty Mountain Hobbs
3pm – 4pm – Purple Pipeweed Parlor Band
4pm – 5pm – Crazy Ladies of the Forest
5pm – 6pm – Mardi Gras Party
6pm – 7pm – Fraggle Rock
Website for the event: http://crickhollowmusic.guildlaunch.com