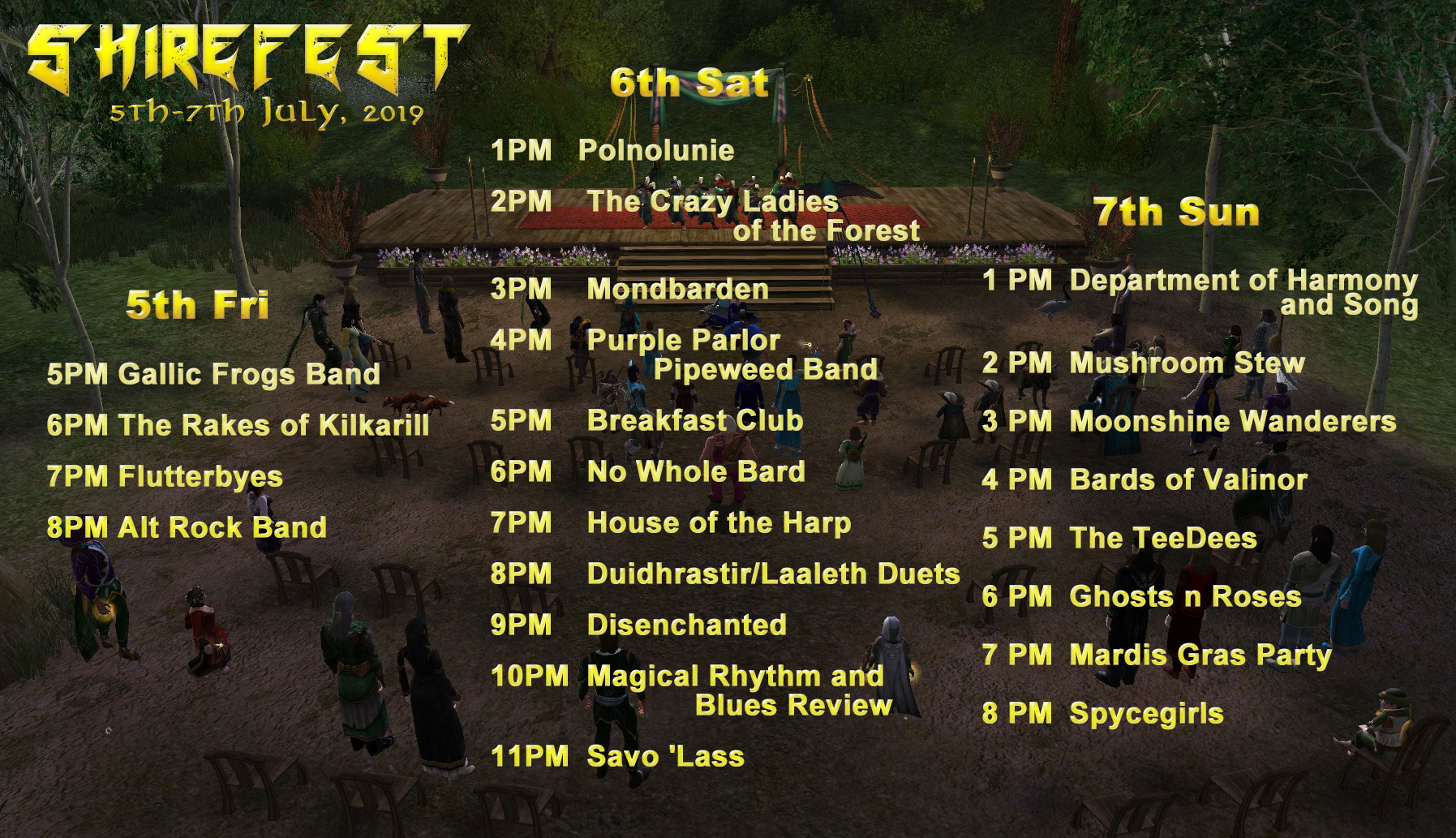 Shirefest VI
is held at the Methel Stage
in Bywater, The Shire
on the Crickhollow server
with B&J and Elevenses in the Green Dragon
Special appearances from some of the bands that started Shirefest!
New bands that are playing Shirefest for the very first time!
Join us with a song or story of your own during our open mic Bread & Jam on friday
after Alt Rock Band plays,
or come to Elevenses on Sunday before the bands start to hear some happy hobbity tunes!
Listen to your favorite bands play songs that you know and love, new songs never heard in Lotro before,
some light RPing, show off your kites, dazzle everyone with fireworks, dance to the music, or just hang out to listen!
Friday July 5th
5.00pm – Gallic Frogs Band
6.00pm – The Rakes of Kilkarill
7.00pm – Flutterbyes
8.00pm – Alt Rock Band
Saturday July 6th
1.00pm – Polnolunie
2.00pm – The Crazy Ladies of the Forest
3.00pm – Mondbarden
4.00pm – Purple Parlor Pipeweed Band
5.00pm – Breakfast Club
6.00pm – No Whole Bard
7.00pm – House of the Harp
8.00pm – Duidhrastir/Laaleth Duets
9.00pm – Disenchanted
10.00pm – Magical Rhythm and Blues Review
11.00pm – Savo 'Lass
Sunday Jully 7th
1.00pm – Department of Harmony and Song
2.00pm – Mushroom Stew
3.00pm – Moonshine Wanderers
4.00pm – Bards of Valinor
5.00pm – The TeeDees
6.00pm – Ghosts n Roses
7.00pm – Mardis Gras Party
8.00pm – Spycegirls