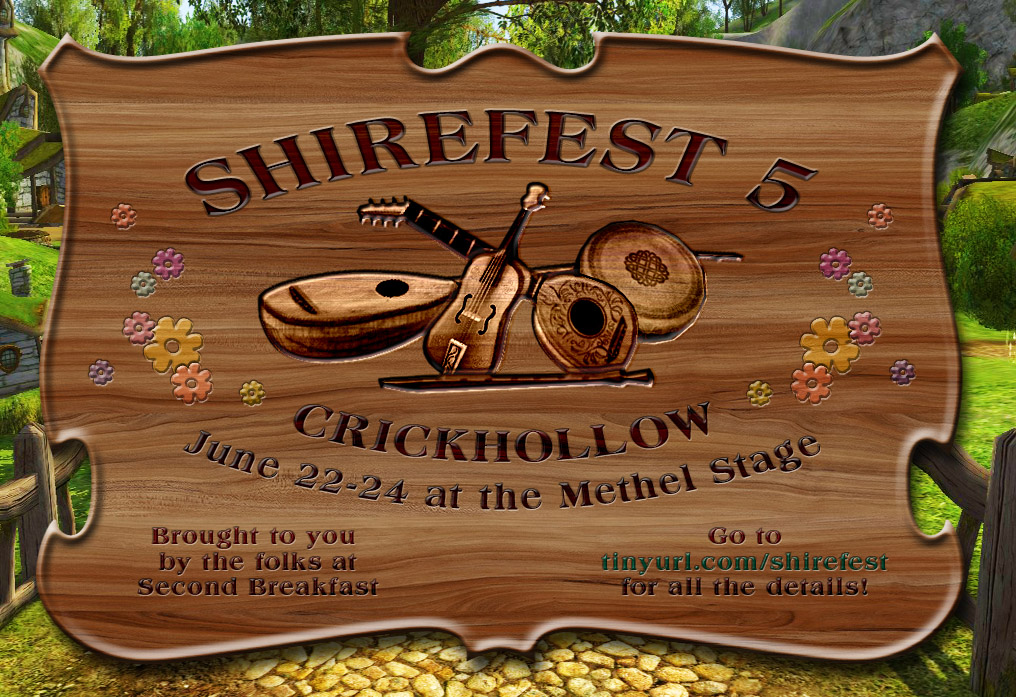 It's almost time for the fifth edition of Crickhollow's biggest annual event–Shirefest! We're heading to the Methel-stage June 22nd-24th and plan to once again bring in performers from all around the globe (both in and out of Middle-earth).
Are you in a band? Starting a band? Just a fan of a fantastic band? Applications open up at 
4pm
 EDT (server time/-4 GMT) on April 20th and everyone is welcome to apply. Although we will try and make sure every band gets one of the three times they list as their preference–and by some miracle, all 25 did last year–priority is given to those who sign up first.
Sign-ups will only be accepted on our website, 
http://crickhollowmusic.guildlaunch.com/
Come prepared with a list of 3 preferred times and a full range of available times. All time slots are for 1 hour including 45-50 minutes of performance time (plus encores if time allows). Hours include 11am-9pm on Friday, 10am-2am on Saturday, and 1pm-10pm on Sunday. We will not be filling all of those hours because our members would die of exhaustion, but we'd like to get an idea of what could work for everyone. We are unlikely to schedule slots at the earliest or latest times each day but may do so based on responses.
---
UPDATE:
Schedule for Shirefest 2018
FRIDAY, JUNE 22nd
3:00 PM Struck by Moonlight
4:00 PM Dance Flora
5:00 PM Country Bluegrass Band
6:00 PM Nuilwë Lantalasselingëa
7:00 PM Duidhrastir & Laaleth
8:00 PM DisEnchanted
9:00 PM BREAD & JAM
SATURDAY, JUNE 23rd
12:00 PM Breakfast Club
1:00 PM Shire Tramps
2:00 PM Polnolunie
3:00 PM The Rolling Kegs
4:00 PM Little Wanderers
5:00 PM Dr. Star & The Acoustic Mayhem
6:00 PM P.I.E.
7:00 PM The Puddlejumpers
8:00 PM No Whole Bard
9:00 PM Alt Rock Band
10:00 PM Purple Pipeweed Parlor Band
11:00 PM Ghosts N Roses
12:00 AM Savo 'Lass
SUNDAY. June 24th
11:00 AM ELEVENSES
1:00 PM Department of Harmony and Song
2:00 PM Mondbarden
3:00 PM Andune Ensemble
4:00 PM Bärtigen Musen
5:00 PM Rhym & the Misty Mountain Hobbs
6:00 PM Dulcet Tones
7:00 PM Mardi Gras Party Band
8:00 PM Café Latte Spyce Girls