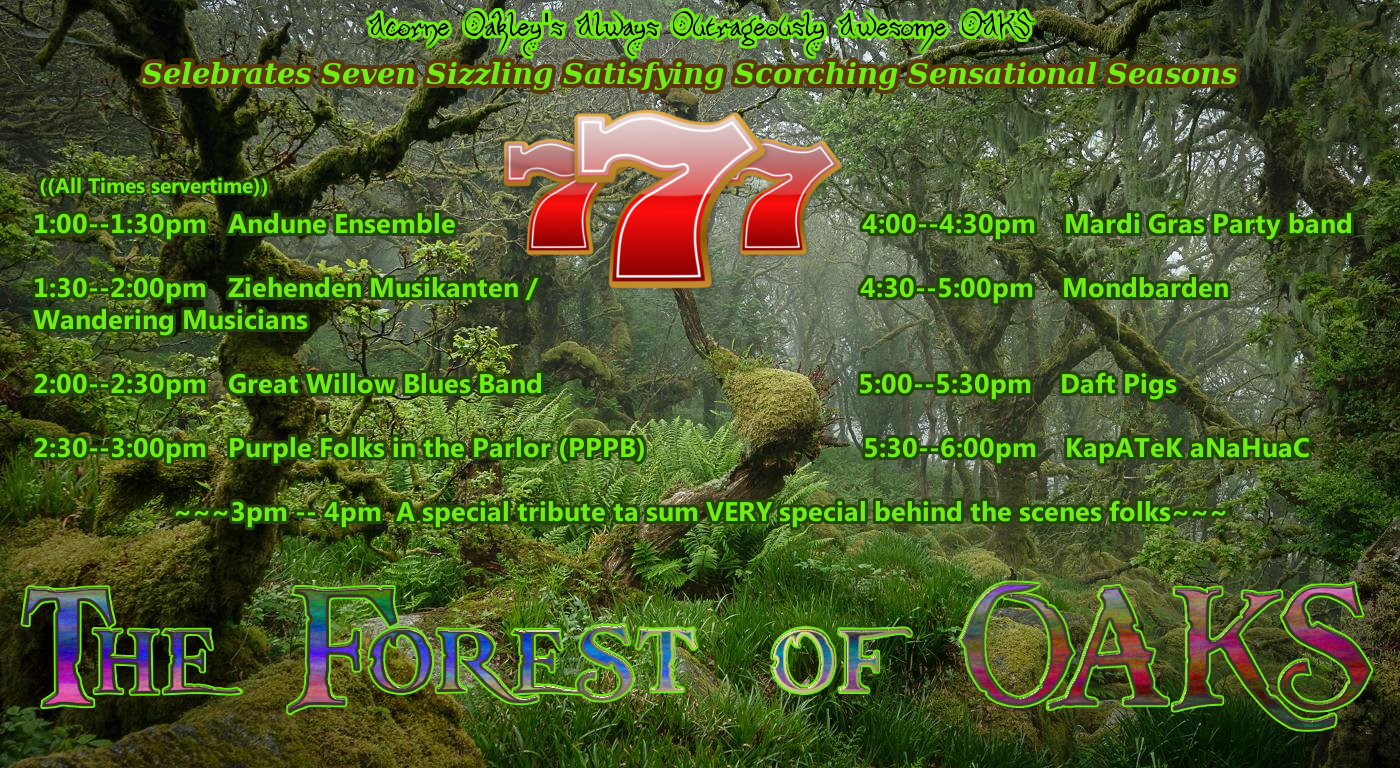 Hiya!
April was a fun month even iffin it brought a bit of rain ta our Shire
(( even had a bit of a downpour at the OAKS ~winks~ ))
…seems them April rains brought us a truly amazin OAKS!!!
Thanks dear Irenella fer bringin all the Great Willow Blues Band ta the OAKS of Oldfurlong.
ya folks play the blues so hauntingly beautiful that even them elufs had to smile as they threw off their boots and danced in the wet grass ~hehe~
As I was sayin good nite ta folks …I herd ..
" ..was a wonderful show, enjoyed it immensely"
"absolutely magnificent!"
and dear Clumbo told me ….  "I shall be dancing all the way home to bed!"
The GREAT Willows made a lot of folks very happy at the April OAKS
…especially me cause I even got ta join them in playing a few songs along wit Miss Rosemaki, Master Blakcs, and that dear Strampi…
thanks so much ta dear Irenella & all who joined fer an amazin OAKS!

Now it is my very great pleasure ta be able ta tell ya folks that this band …as well as ALL the bands that have played over the past season …will be back!  WOOHOO!All the awesum bands will be back ta each play fer 30 minutes all in one day in what I call the
Forest of OAKS
This year the Forest will be so vibrant & wondrous considerin all the outstandin talent of the always awesum bands that have played the OAKS over the past season!!!
It all started last September wit the Andune Ensemble tellin the story of Gondolin musically
…then the monsters of Mondbarden helped us drive away an irritatin visitor
…then Mardi Gras Party band played everyone's choice in their all-request concert
… then the Ziehenden Musikanten / Wandering Musicians of Belly Gear told a most touchin tale about a lil orphan lass & her dog Benny
…then the Purple Folks of the Parlor ( the Purple Pipeweed Parlor Band) had a rockin tea party
…then we were treated ta the sweetness of the Daft Pigs
…after which the fragile females of KapATeK aNaHuaC came ta party in Oldfurlong
and finally …. the GREAT Willows!
what a season this has been!!!
Eight of the most outstandin bands from all over Middle Earth …..all comin back on saturday May 8th!!!
Bring all the family cause no one will want ta miss this!
warm hugs ta everyone,
Acorne