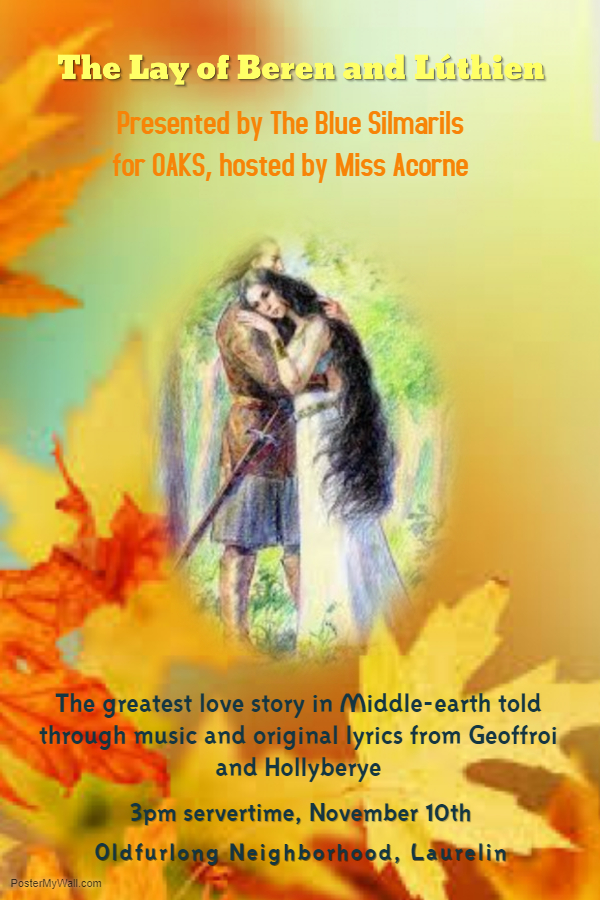 Hiya!
A BIG thank you to all of Polnolunie fer bringin the *Full Moon* ta shine down on all of us in the last OAKS *bows*
Polnolunie has so much amazin talent among its members!
Their selections include beautiful heart-touching lyrics like the song about the young lass waitin in vain fer her lad that bravely went ta drive the wolves out of the Shire…
*wipes a tear from her cheek*
as well as funny lyrics like the song about gettin lost in the Spring maze. *giggles*
These incredible lyrics t'gether wit their awesum music have made many an audience very happy over the past five years they have been t'gether..
And the OAKS audience was definitely treated ta a thrillin concert as they played their best 30 songs from those years
I hope they are still playin 5 years from now…maybe 15…maybee even 50!
Thanks ta all of Polnolunie fer a truly amazin concert….
It was a honour celebratin their 5th Anniversary at the October OAKS!
Fer those of ya who want ta hear it all agin…here be Miss Leddy's magick pictures…

I started writin this announcement fer ya folks a bit earlier….and then there was a terrible storm!
Really scary! I could hear thumps and bumps against the walls of my burrow…my sweet lil Butterfly was rolled up under my bed shakin
And when the wind subsided and we could finally get outside agin…..
* cries*
It was HORRIBLE!
That wind had blown in giant bushes all over the neighborhood!
and blew so hard it planted them deep inta the ground!
Our town square looks so cluttered and made me so sad 🙁
If a storm could think & plan, I'd believe it were tryin ta sabotage the OAKS on purpose!
My Papa says the gardening department be on strike cause Mayor Whitfoot is not willin ta pay fair wages!
http://www.brambleburygazette.com/announcements/gardeningdepartmentonstrike
We in Oldfurlong cant have the OAKS audience playin hide-n-seek wit the stage!
That cannot happen! There be a mighty spectacular OAKS comin up in November so I'm bringin in sum gardeners ta see if we can clear out the town square of Oldfurlong…
AND the OAKS will go on!
The November OAKS be a special treat fer everyone who luvs a love story or an excitin adventure ….
I no that must be all of us…rite!?!
This OAKS will be the tellin of a great love story 🙂
Sum folks say it be the greatest love story of all of Middle Earth!
It starts when a human lad and a lovely lady eluf first see each other…and then…
well ya're just gonna have ta come see what excitin adventures they have after that…
It will be told wit the help of the sensational music of a tall & handsum fella name of Geoffroi!
and the always awesum original lyrics of dear Hollyberye!
them be two tall ones that can be seen ridin on the back of the great eagle Landroval every Sunday when they make music as part of Andune.
Be sure ta come ta the Oldfurlong neighborhood on Saturday November 10 fer anuther awesum OAKS when the enthrallin Blue Silmarils tell the story of Beren and Lúthien!
Bring that lass or fella ya likes …maybee this love story will inspire them ta be yer sweetie *winks*
warm hugs ta all,
Acorne