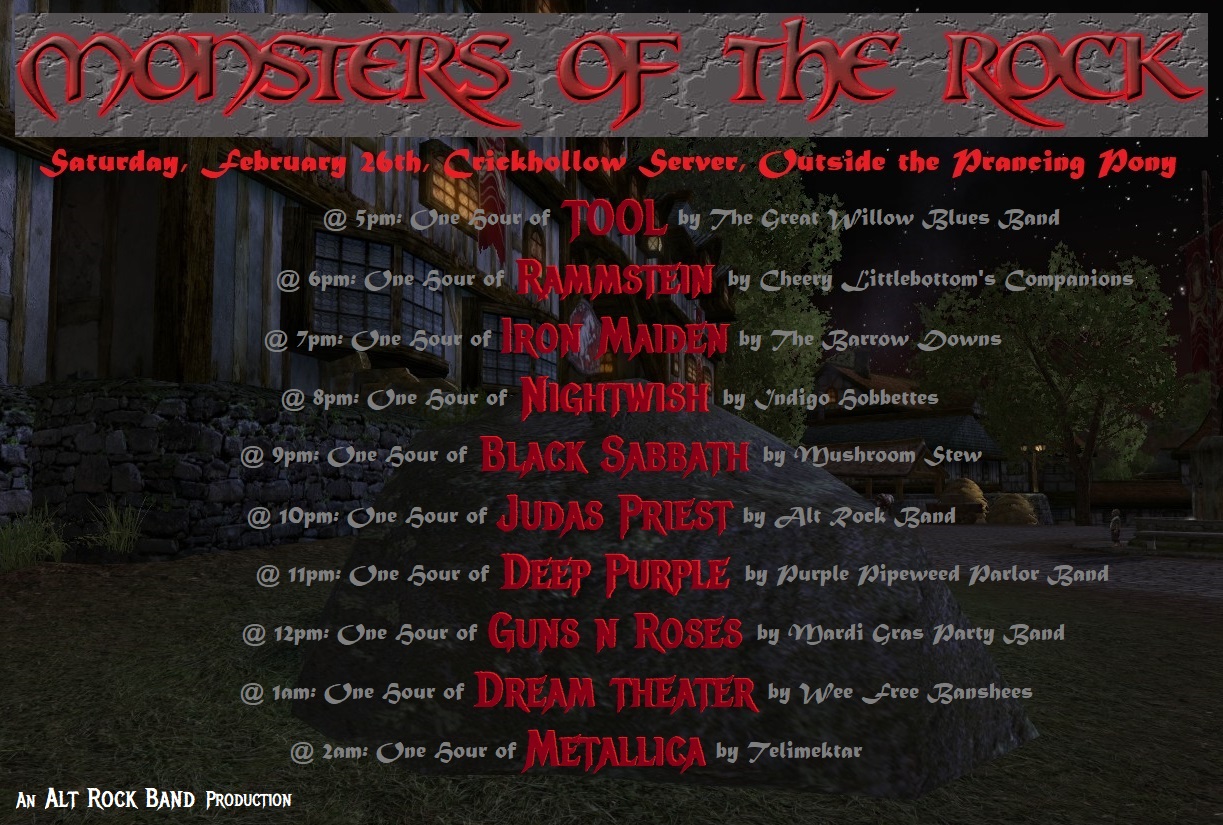 Alt Rock Band
presents
Monsters of The Rock
Saturday, February 26th
From 5.00pm to 1.00am
Bree, Prancing Pony Rock
Crickhollow server
Saturday February 26th
5.00pm * The Great Willow Blues Band plays Tool
6.00pm * Cheery Littlebottom's Companions plays Rammstein
7.00pm * The Barrow Downs plays Iron Maiden
8.00pm * Indigo Hobettes plays Nightwish
9.00pm * Mushroom Stew plays Black Sabbath
10.00pm * Alt Rock Band plays Judas Priest
11.00pm * Purple Pipeweed Parlor Band plays Deep Purple
12.00pm * Mardi Gras Party Band plys Gun'N'Roses
01.00am * Wee Free Banshees plays Dream Theater
02.00am * Telimektar plays Mettalica
Following the format of the formerly huge Monsters of Rock festivals in the late 80's-late 90's, bands will be playing either 25 minute sets or 55 minute sets comprising of songs from one single irl band/artist.  So, one hour of Megadeth, or 1/2 hour of Ozzy, and so on.  I'll make the schedule based on time willing to play rather than if it's 25min or 55min, so we may not have all the 25min bands play first, but will mix it up depending on who can play when.
Real life bands covered should fit into the Monsters of Rock sub-genre, that is, don't be playing an hour of Emerson, Lake, & Palmer.  Bands or artists considered Hard Rock or Heavy Metal only, like Metallica, Scorpions, Iron Maiden, Ozzy, Dio, VanHalen, and such.  Not the Beatles or Chili Peppers and definitely no Adele.
Sets may be arranged however you feel, filled in or stretched out with trivia or facts about the band you're covering or their songs, or compressed and silent to get as many notes played as possible within the time given.  For a half an hour or for a full hour, pretend that you are the Greatest (insert band name here) Cover Band on the Planet, have fun with it!
Monsters of the Rock is open to any band from any server willing to travel to Crickhollow and play for us!