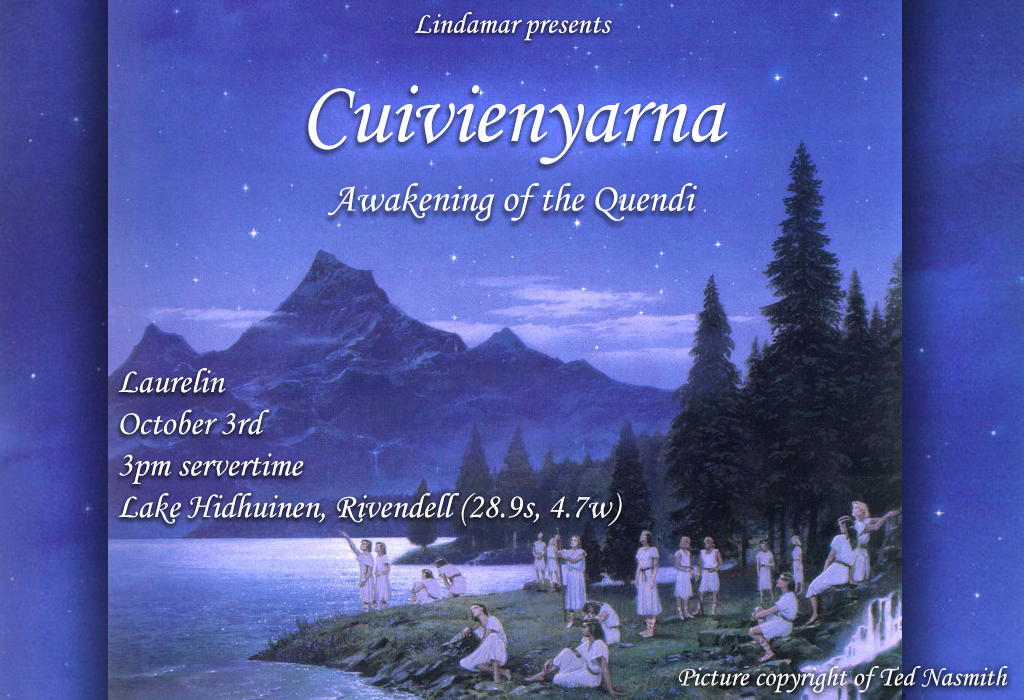 Lindamar
presents
Cuivienyarna
Awakening of the Quandi
Sunday, October 3rd
3pm
Rivendell, Lake Hidhuinen (28.9S/4.7W)
Laurelin server
Event details:
"In this age the Children of Ilúvatar shall come indeed, but they come not yet. Moreover it is doom that the Firstborn shall come in the darkness, and shall look first upon the stars. Great light shall be for their waning. To Varda ever shall they call at need."
Lindamar, ensemble of Bar-en-Vanimar, invites all free people, Elves and elf-friends, to a music performance where we share in the telling of the awakening of the Quendi at the Cuivienen as Varda rekindled the stars during the Age of the Trees.
We gather at the southern shore of lake Hidhuinen in the valley of Rivendell. A place of serenity and restfulness most suited for an occasion of remembering the ages of the past.
This is an in-character and timeless event, as some of the band members may be elsewhere. Everyone, elf-friends or good natured travelers of the free people, with a reasonable purpose for visiting or staying in the area at the time of the performance, are most welcome to attend.
Please be respectful of the character of the event, and leave your weapons and pets behind. You are welcome to let fireworks brighten the evening sky after the performance.