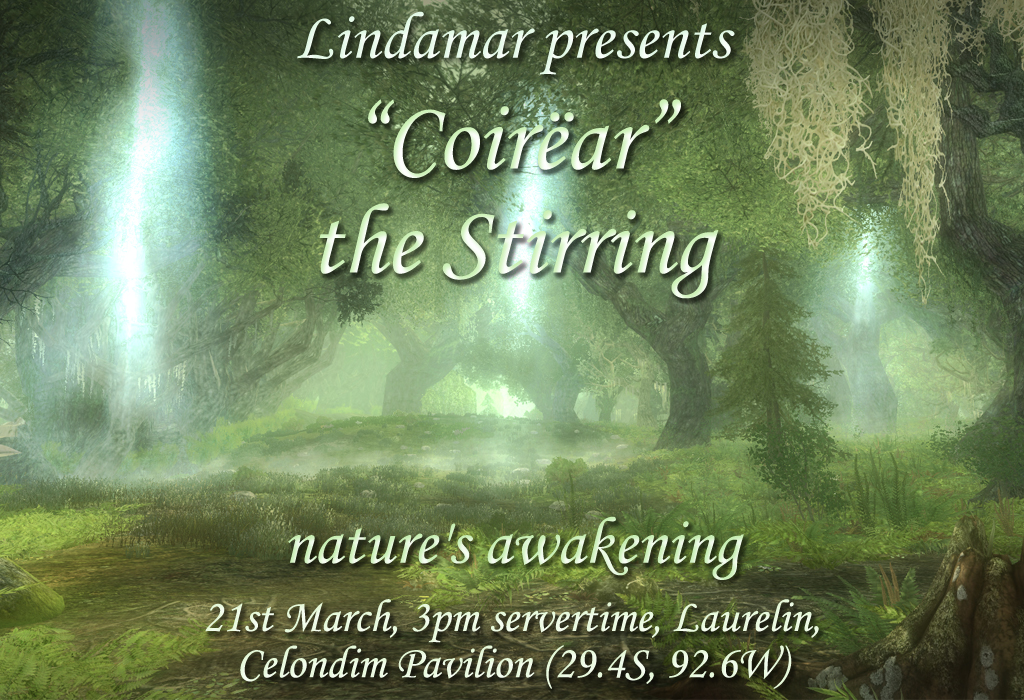 Lindamar
presents
Coirear
Days of the Stirring
Nature's Awakening
Sunday March 21st
3pm EST
Celondim, Eleven Pavillion (29.4S/.92.6W)
Laurelin server
Lindamar presents a music performance on the eve of the equinox with songs and poems for the days of the Stirring, Coirëar. It is a season of nature's awakening, where Yavanna's garden stirs with life yet to bloom, heralding a new year and spring to come.

Lindamar, ensemble of Bar-en-Vanimar, invites all free people, elves and elf-friends, to come and share with us a performance on the eve of the equinox as we celebrate the days of Stirring with a selection music fitting the season, yet with an elven touch, accompanied with poems.

We gather in beautiful Lindon, at the Elven Pavillion, south and uphill of Celondim. A place of sanctity and serenity most suited for an occasion of celebration of the passing of the Coirë, and in anticipation of the new year to begin.

This is an in-character and timeless event, as some of the band members may be elsewhere. Everyone, elf-friends or good natured travelers of the free people, with a reasonable purpose for visiting or staying in the area at the time of the performance, are most welcome to attend.

Please be respectful of the nature of the event, and leave your weapons and pets behind. You are welcome to let fireworks brighten the evening sky after the concert, and to carry flowers during the music.