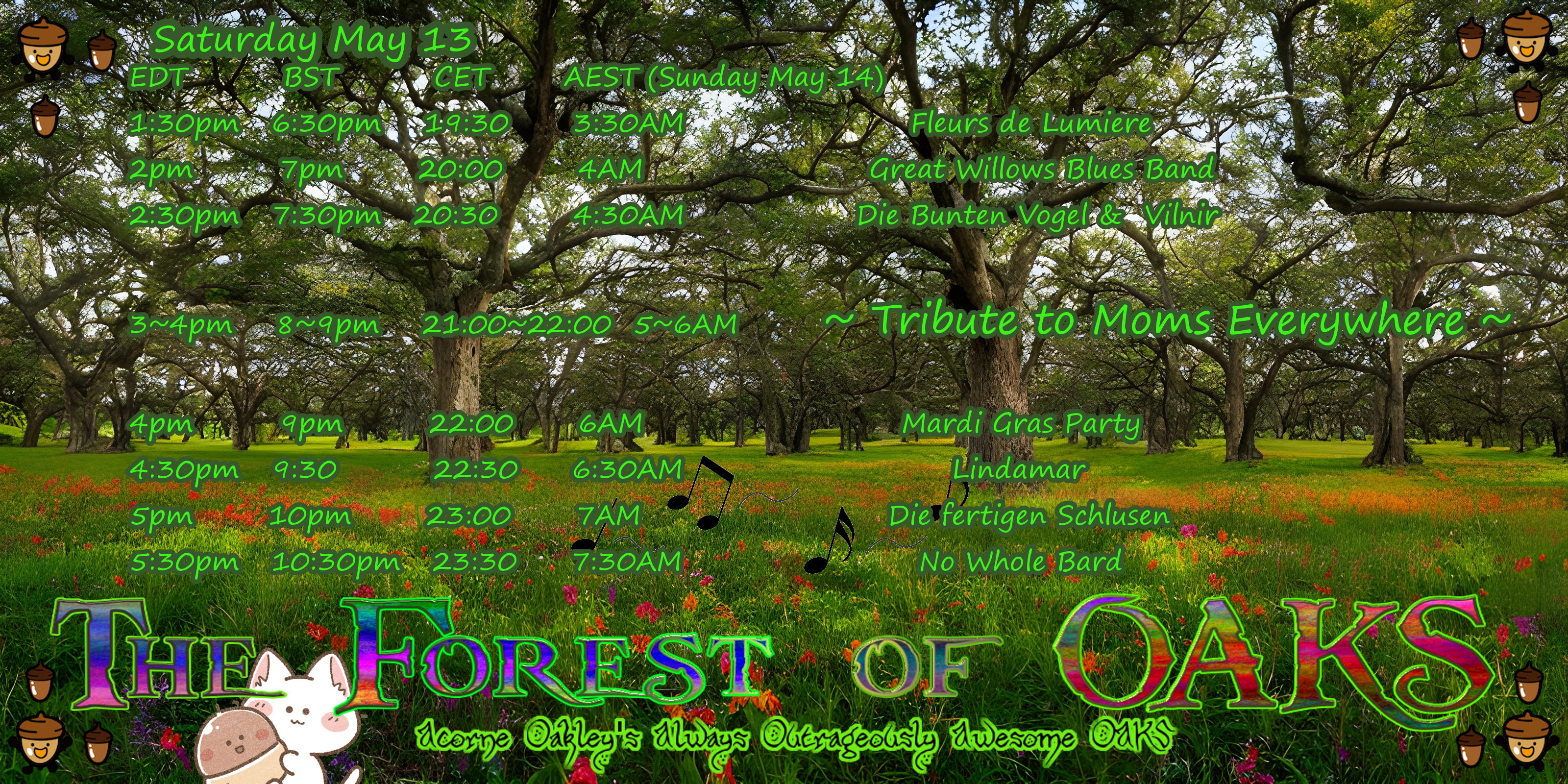 Hiya!
Back in April, another great group of elufs joined us …the Fleurs de Lumiere  …
and it was really a wonderful experience fer all of us in the audience.
They started wit the tender & beautiful melodies ya'd expect from a group of lovely eluf lasses….the music was so gentle & soothin  …just like the kind lasses that be makin the music.
About an hour inta the concert, them took a short break while I reminded folks of the Forest of OAKS that happens every May when I invite back all the bands that have played at the OAKS over the last season….
Next …they came back after changin from the white gowns ta a rainbow of bright colours and they startin playin sum lively songs that soon had us all cheerin wit joy & dancin wildly.
They had a marvelous version of "Somewhere Over the Rainbow" that really rocked!
I herd plenty of compliments throughout that evenin  like  …
"This concert is magnificent!"
"It's been an enchantin evenin, thank ya Ladies"
" I cant remember the last time I had this much fun at a concert."
and one lad said after they announced the last song…"I'll pay ALL my gold ta hear more from you!!!!!"
dear Fjamee said she hoped we all had a fun evenin and I know I did!!If ya wants ta hear it all again ….thanks ta dear Miss Leddy ….ya can!  …https://www.youtube.com/watch?v=KIbo18QVs1Q
No worries if ya still wants more cause the Fleurs de Lumiere will be back …in …..the Forest of OAKS!
Along wit The Great Willows Blues Band!
and Die Bunten Vogel &  Vilnir!
and Mardi Gras Party!
Also Lindamar!
and  Die fertigen Schlusen!
and more music from tomorrow when No Whole Bard comes back ta Oldfurlong!

Them bands that played durin the past season will all return  …all except A Rock & a Hard Place …
~so sorry but Bruzo's mom says he has ta stay home ta clean his room~

Speakin of moms …I thot this be a great time fer a special tribute ta moms everywhere!
and I have sum wonderful folks that will be here ta help wit that.
I know ya dont wanna miss that!   NEVER!!

Join us in Oldfurlong on saturday May 13 at six and a half bells in the evenin fer …the noble, notable, nutty, nimble, noteworthy, notorious,  nifty, completely natural, and possibly naughty  …..    
Ninth Season of the Forest of OAKS
 (( I'll leave it up ta ya folks ta decide what adjective fits what band ~winks~ ))

Spinnin gigglin happy hobbity hugs,
Acorne
Saturday May 13
EDT         BST         CET       AEST
                                        (Sunday May 14)                                                                
1:30pm    6:30pm    19:30       3:30AM                         Fleurs de Lumiere
2pm         7pm        20:00       4AM                       Great Willows Blues Band
2:30pm    7:30pm    20:30       4:30AM                  Die Bunten Vogel &  Vilnir

3~4pm     8~9pm    21:00~22:00  5~6AM          ~ Tribute to Moms Everywhere ~
4pm         9pm       22:00        6AM                            Mardi Gras Party
4:30pm    9:30        22:30       6:30AM                            Lindamar
5pm        10pm       23:00       7AM                        Die fertigen Schlusen
5:30pm   10:30pm   23:30       7:30AM                        No Whole Bard