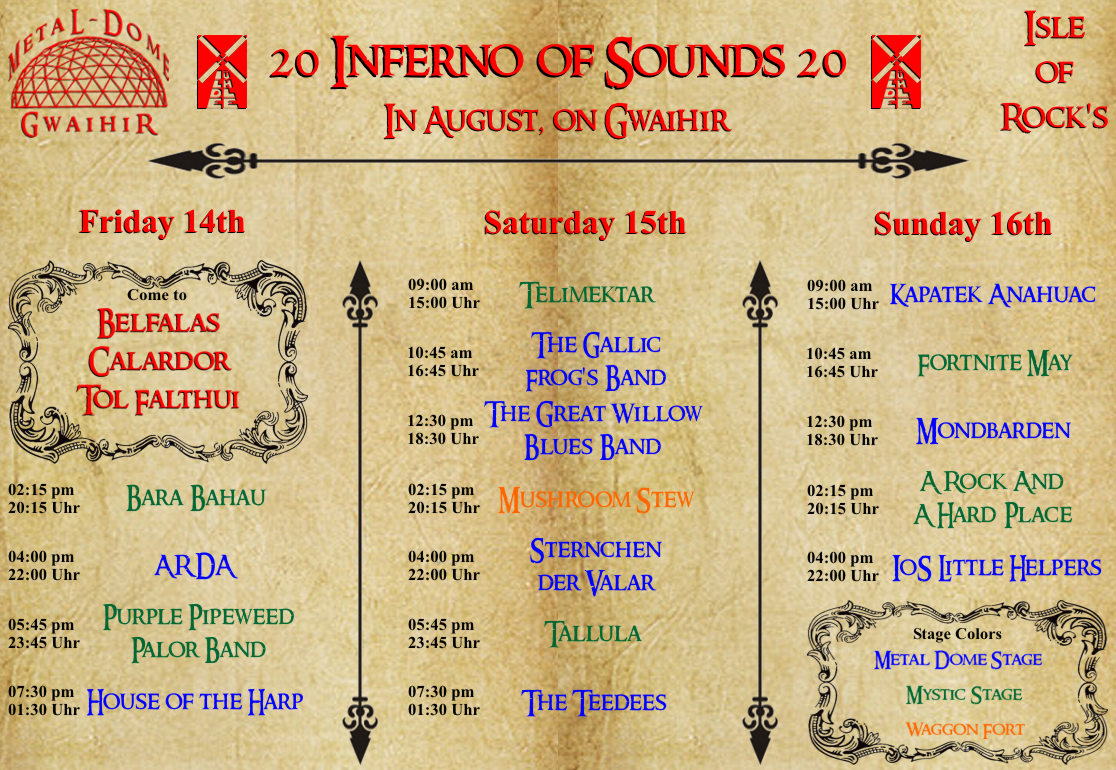 Metal / Hardrock / Rock – Festival
August, 14 / 15 / 16
Gwaihir Server
Belfalas Island
Calardor -> Tol Falthui
Friday, August 14th
2.15pm – Bara Bahau
4.00pm – Arda
5.45pm – Purple Pipeweed Parlor Band
7.30pm – House of the Harp
Saturday, August 15th : LIVE on DocZoider's Twitch TV
9.00am – Telimektar
10.45am – The Gallic Frogs Band
12.30pm – The Great Willow Blues Band
2.15pm – Mushroom Stew
4.00pm – Die Sternchen Der Valar
5.45pm – Tallula
7.30pm – The Teedees
Sunday, August 16th
9.00am – kaPaTEk aNaHuaC
10.45am – Eortnight May
12.30pm – Mondbarden
2.15pm – A Rock And A Hard Place
4.00pm – Metal-Dome IoS Little Helpers
Dear friends of Lotro music! In preparation for this BIG Metal Festival on August 14-16, which is possible only by the truly outstanding effort of many days by Lady Rosemaki & Lady Szorcha, Lady Szorcha has put together a little booklet for all of you.
Here you will find information about the Inferno of Sounds and a few pictures and maps of the Isle of Rock's on which the IoS will take place.
We hope you enjoy browsing through the booklet    …..
be sure to check out the links to the three videos on the last page of the booklet