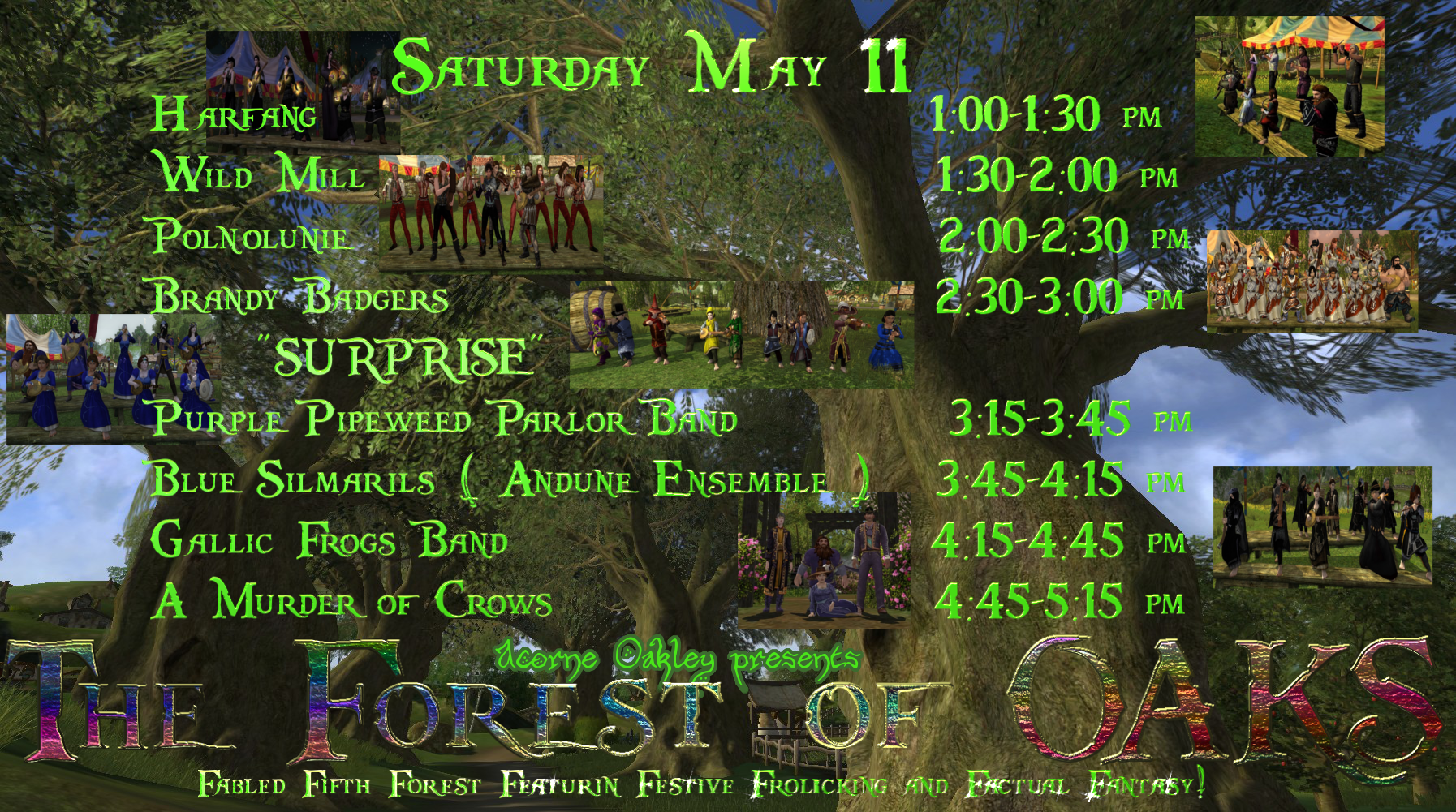 Hiya!
It was great ta see so many of ya at the April OAKS …
Ya brought yer families….gammers, gaffers, aunties, uncles….and cousins galore *giggles*
We all had fun dancin and listenin ta the music of Harfang!
At one point Master Sigmo said, "We never have been on stage with such a crazy party! "
and then he had us all tryin ta dance like ..Goblins!
my dear Papa was there and he said it was lovely music and he had a grand time all evenin!
Miss Leddy had ta use a bunch of paint in her drawings that day..hehe… just look at these…

And now……
                                                               The Forest of OAKS!!
when the bands that have played over the past year come back ta each play agin fer 30 minutes..
Join us in Oldfurlong & we'll climb them OAKS t'gether *giggles*
….. in the town square of Oldfurlong on Saturday May 11 ….
when we dance under the Full Moon of Polnolunie
while we be listenin ta the smokin music of PPPB
and the brilliantly beautiful music of them Blue Silmarils
as we dance wit Crows, Frogs, sum Wild ladies from the Mill..
and a whole BOAT of Badgers
Of course the Harfang family will be back as well  *winks*
This is gonna be truly AMAZIN!!!
and remember all folks be welcome …and I do mean everybodee…
even that lady on the Hill that yells at everyone ta leave her flowers alone *winks*
tall or short…young or old…join us in Oldfurlong fer a crazy fun day!!
All be most welcome! *bows*
If the Forest is rockin..
..Just come in and join us! *winks*
Warm hugs ta everybodee,
Acorne