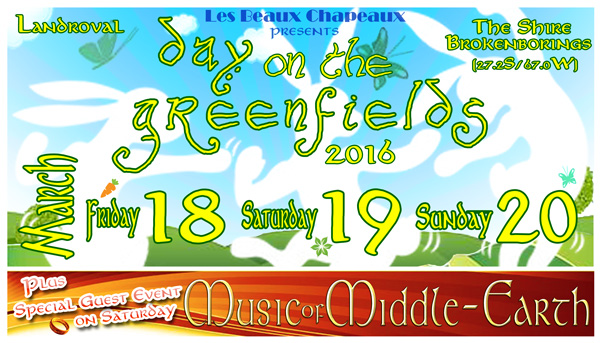 Attention: Info about event signup can be found here at the event's website.
Also, for Europeans, note that the US change their clocks this week (and Europe at Easter). That means we would be playing an hour earlier than normal, the gap will be 4 hours between US and UK rather than 5. The gap will be 5 hours between US and FR/GE rather than 6.
The First Day on the Greenfields music festival took place in 2014 on the Landroval server. It was held over two days and featured a full 24 hours of music by various bands and soloist. This year we are proud to announce the return of the Greenfields music festival hosted by Les Beaux Chapeaux. We are also honored to be co-hosting the Music of Middle Earth show with our good friend Laerlin of Landroval this year as part of the Greenfields festival.
Friday Mach 18th :
1pm – Bara Bahau
2pm – The Chosen Few
3pm – Mondbarden
4pm – A Rock and a Hard Place
5pm – The White Flames
6pm – Die Bunten Voegel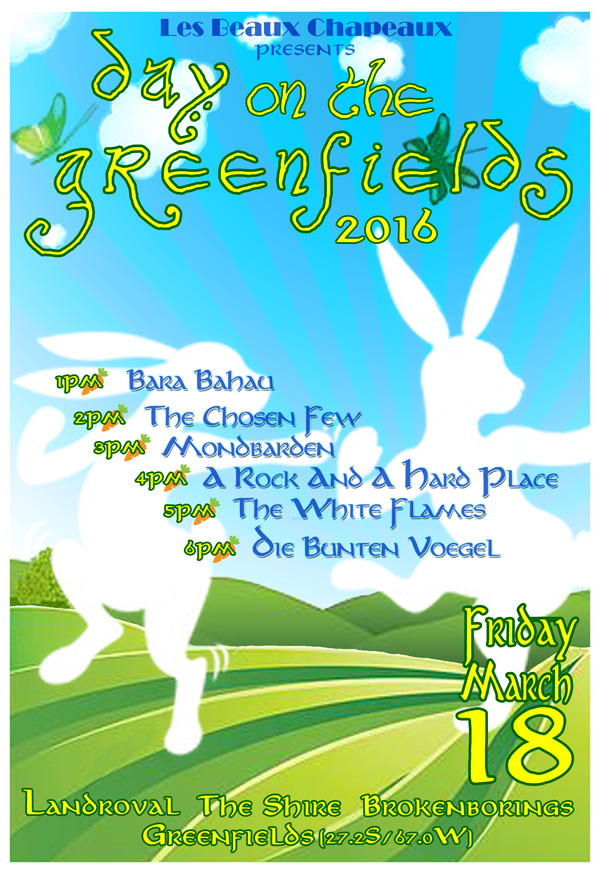 Saturday March 19th :
Greenfields Saturday Part #1
Noon – The Ninny Hammers
1pm – The Department of Harmony and Song
2pm – Notenzauber
3pm – Under the Sunlit Sky
4pm – The Aleford Band
5pm – The Maidens of Vanimor

Special Guest Event : Music of Middle-Earth
6pm – Skarn
6:45pm – The Maidens of Vanimor
7:30pm – The Remediators
8:15pm – The Fluffy Unicorns

Greenfields Saturday Part #2
9pm – No Whole Bard
10pm – Runic knights Orchestra
11pm – DisEnchanted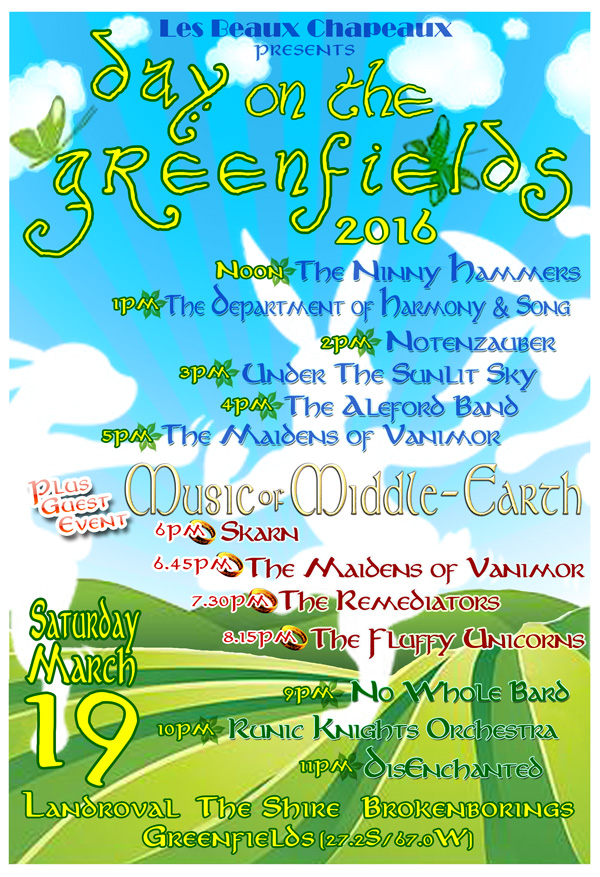 Sunday March 20th :
Noon – The Remediators
1pm – The HOPE
2pm – Starlight
3pm – The Andune Ensemble
4pm – Les Chantefables
5pm – The Little Wanderers
6pm – Thunderstruck
7pm – Little to No Drama
8pm – The Greenhills Music Society
9pm – Dr. Star & The Acoustic Mayhem
10pm – Les Beaux Chapeaux
11pm – The Fluffy Unicorns