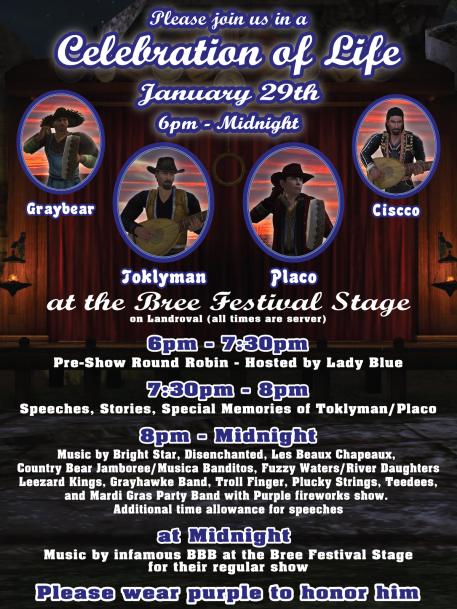 Orladan and Friends of Placo
present
Celebration of Life
Saturday, January 29th
From 6.00 pm to Midnight
Bree, Festival Grounds Stage
Landroval
Come join us to celebrate the life of Placo, this charismatic man who touched our hearts with his love and his stories.
His characters were larger than life and will be remembered for their kindness, helpfulness, sense of humor, and for the many contributions they made to the music community and LotRO as a whole.
He was loved by many and will be missed by all, for he will forever remain in our hearts as a beloved friend.
Please note that the time has been expanded. Round Robin will start at 6pm server, with Speeches and Stories starting at 7:30. There will be more time for Speeches within the Music Set portion after 8pm. And finally, BBB will host their usual naughty show at the Fest Stage as well. (I know you all can read, but I wanted to highlight some things.) (Aedon)
6.00-7.30pm *  Pre-Show Round Robin, Solo acts and Small bands
7.30-8.00pm * Speeches, stories, Special Memories
8.00-Midnight * Bands performing
12.00am – B.B.B.