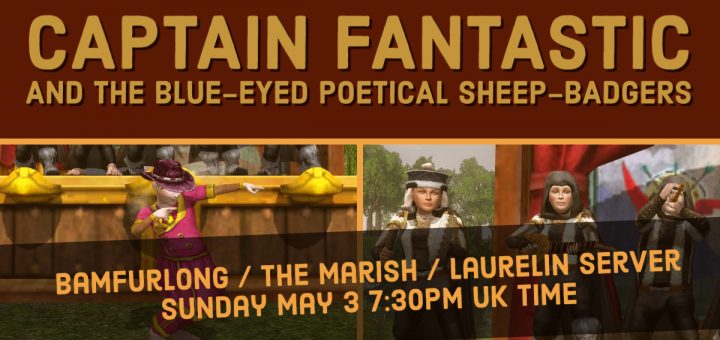 The Brandy Badgers spring musical, telling the tale of …
Berno
, poetical lad extraordinaire,
who had the misfortune to find a gem in his last slice of yule pie, meaning he has to find a blue-eyed lass to marry                                (don't ask, it is an old Shire tradition).
Enter his best friend Reginald, musical lad extraordinaire, who takes the pair on a grand quest involving steak, rolling pins, Brockenborings sheepdogs, musical badgers and rivers that never really run where you expect them to.
Wonderful wacky wonders and hilarious hi-jinks may or may not ensue!
The musical is based on the songs of Elton John and Bernie Taupin.
Time: 7:30PM UK / 2:30PM servertime
Location: Bamfurlong, The Marish, The Shire. We'll be just north-east of the farm at 33.5 S, 64.2 W, inland just west from the Bucklebury ferry.