Most Wednesdays you can hear Instant Play do a few tunes during the Night of the Mouses, and now they will do a Full Feature at the Yard Party on March 10.
And their representative Mr. Sevhis said he trusted me with telling you a bit about the band, and the following is not at all made up but once upon a time Ponto Hopsbloom was doing a Major Spring Clean at the Floating Log Inn and there was a ton of not-quite-fresh leftover Toad's Tongue Ale and Pipeweed and peculiar dried Mushrooms which Ponto dumped in a puddle on the Frogmoors which was at the time teeming with spawn of frogs, toads, newts, little fishes and whatnot…and not long after that, a strange group of people showed up at the Log and started playing music and that was the start of Instant Play and while I'm NOT claiming they are mutants they certainly play interesting and danceable music and so March 10th is a good time for you all to show up at the Yard Party and Dance!
—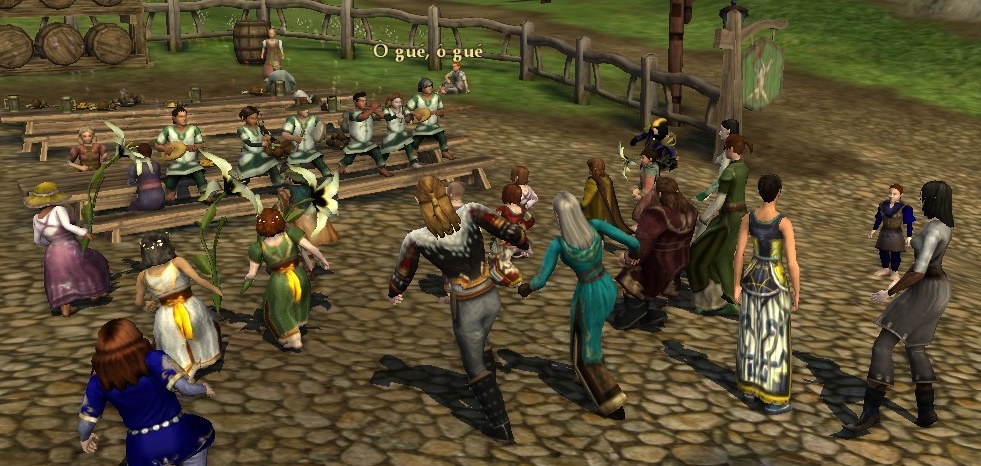 All good people are welcome at the Bird and Baby Yard Party, a weekly event featuring you, our patrons! Sometimes there are visiting bands or other planned events, at other times, entertainment is provided by you, the patrons!
When there is a scheduled event, feel free to play music, tell stories or whatever during breaks, but we ask that you yield the stage to the evening's main act at their discretion.
Free Beer and Mystery Food (self-service at the tables in the Yard). Please note that eating of the Mystery Food is at your own risk.
The Bird and Baby Yard Party is managed by Miss Bilbeto Longburrow very much helped by its regular patrons (not only those listed as contacts).
Contact: Bilbeto Longburrow, Acorne Oakley, Toadflax Nosely
Upcoming scheduled events at the Yard Party:
March 10th: Instant Play. Music, more info soon(tm).
March 17th: Eggscursion to the Greenfields where we partake in the Bullroarer Took's Day celebrations!
March 31 (Date is tentative): The Traveling Bilberries. Music.
April 14: The return of Black Salad Day, a Feature of eggsclusively Black Salad music
April 28: The Ninny Hammers. Music. More info soon(tm).
May 5: The Crazy Ladies of the Forest. Music.
May 19: Shire Tramps. Music.
June 2: The Andune Ensemble. Music
September 13th: Struck by Moonlight (music).
October 13: The White Flames Band. Music. More info to appear.