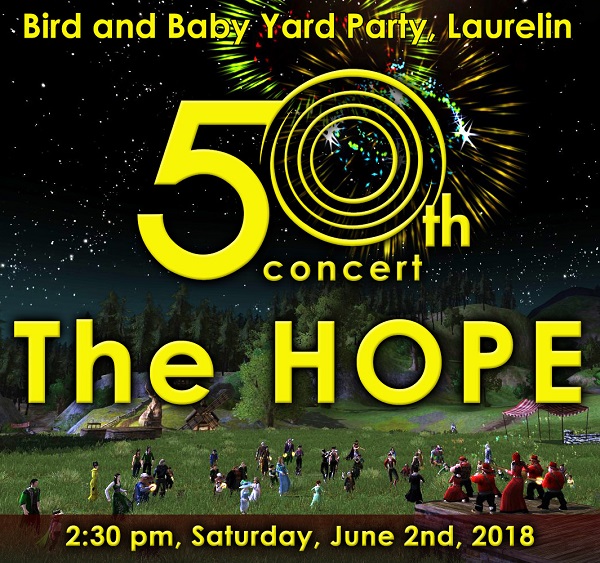 When I was contacted concerning this event, I asked my daughters how much Fifty is and they replied "A lot" and "More than you can count to", respectively, and I also understood that Fifty is important because it is a Round Number and I know that Round is good, for that is what all Hobbit lasses strive to be!
Be that as it may, our friends in The HOPE have previously performed at the Yard Party and when they asked if they could play their 50th concert here I was very pleased, which everyone should be since The HOPE is a very capable band, ambitious in their repertoire and guaranteed to make even the rocks shake, rattle and roll!
So come dance in the Bird and Baby Yard on June 2nd and let's all have a beautiful day!
---
All good people are welcome at the Bird and Baby Yard Party, a weekly event featuring you, our patrons! Sometimes there are visiting bands or other planned events, at other times, entertainment is provided by you, the patrons!
When there is a scheduled event, feel free to play music, tell stories or whatever during breaks, but we ask that you yield the stage to the evening's main act at their discretion.
Free Beer and Mystery Food (self-service at the tables in the Yard). Please note that eating of the Mystery Food is at your own risk.
The Bird and Baby Yard Party is managed by Miss Bilbeto Longburrow very much helped by its regular patrons (not only those listed as contacts).
Contact: Bilbeto Longburrow, Toadflax Nosely
Time: The Yard Party always begins at 19:30 UK time and mostly last a couple of hours. Consequently, EST/EDT starting times (what the Lotro Artists calendar uses) vary at DST transition times. We strive to keep the announced starting "server time" correct for the current next Yard Party.
Upcoming scheduled events at the Yard Party:
April 19th, 2018: Reprise of the Return of Son of Black Salad Day
June 2nd, 2018: Special Saturday Yard Party Featuring The HOPE's 50th concert.
A recital of classical works, directed by Maeraen Merilin, is being prepared. It will be scheduled when it's ready.